[vc_row][vc_column][vc_column_boxed_text]> HELP to build a good RiP-City <
ABC-GAMERS are RiP (Rest in Peace) on War and Magic – Server 163, Position x:y 540:540
! Our golden Rules for all our Members !
– Do not ATTACK MINES Level 1, Level 2 and Level 3.
– Do not Post OCCUPIED MINES Level 1, Level 2 and Level 3.

– Wir attackieren keine Minen Level 1, Level 2 und Level 3.
– Wir posten keine besetzten Minen Level 1, Level 2 und Level 3.
– We are familiar, so we do not spend +1. we spend a full transporter.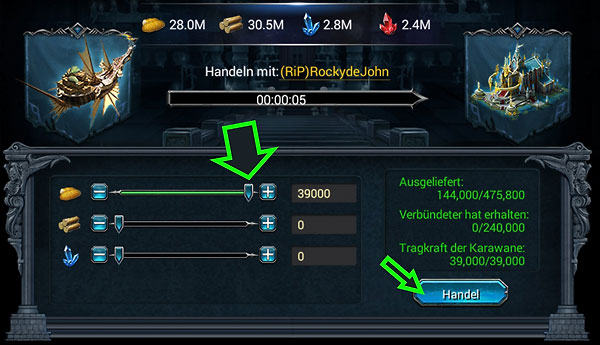 – Wir sind familiär und spenden nicht +1, wir versenden einen vollen Transporter!
MINES:
– Only Level 15 should be farm into a Level 5 and Level 6 Mine. If you are in a Level 5-6 Mine, you should be strong enough to defend.
– We farm the Mine empty. If you attack someone in Level 4-6 Mine than clean the Mine, let no stones back!
– Be fair, and post Mines! Mines from Level 4 to 6 you can post always.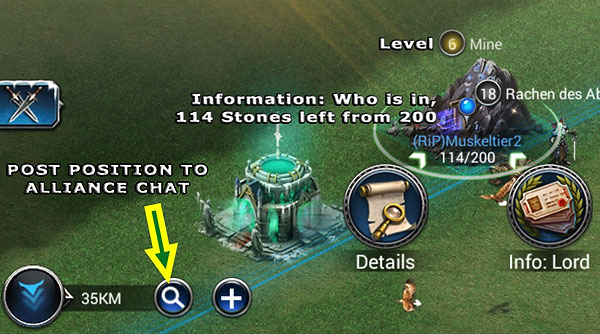 – Nur Level 15 sollten in Minen Level 5 und Level 6 farmen. Bist Du in einer Level 5-6 Mine, dann solltest Du stark genug sein, um sie zu verteidigen.
– Wir farmen die Mine leer! Wenn Du jemand in einer Mine Level 4-6 attackierst, dann säubere die Mine, lass keinen Stein zurück!
– Sei fair, und poste Minen! Minen von Level 4 bis 6 kannst Du immer mitteilen.
– CITY FIGHT:
– You should have 2 Teleports or enough Gold, if we teleport to the city.
– Starting assembly only with Parliament Level 14 under consultation.
– At the Alliance-Shop you get quality.resettlement frag = 20 Frags = 1 Teleport.
– Sometimes you can get a meeting.tempo to speed up the Team. Item with trumpet symbol.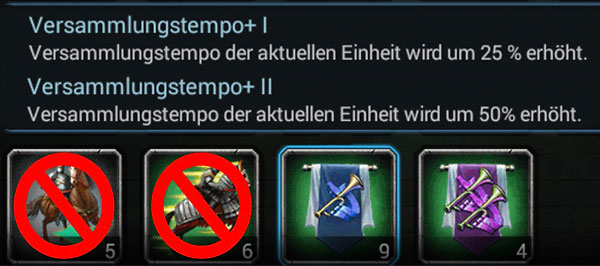 – Du solltest 2 Teleports, oder genug Gold für zwei Teleports haben, wenn wir doch porten müssen.
– Versammlungen starten nur Mitglieder mit Parlament Level 14 und unter Rücksprache.
– Im Allianz-laden kannst Du Hochw.Umsiedlungsfragment bekommen. 20 Fragmente = 1 Teleport.
– Im Allianzladen bekommt man manchmal Versammlungstempo, damit kann die Versammlung zur Stadt beschleunigt werden.
– If the last fight to the city is done, the top Heros are shoud be send to the city first!
– Only the top Heros can hold and defend for the city and bring at the end the bonus to the alliance.
– If there are more free slots, check your hero and send your best one to the city.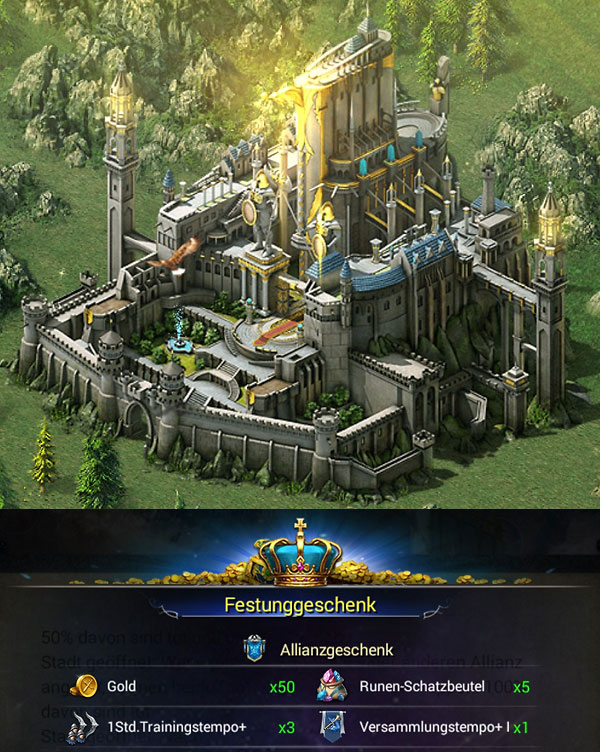 – Wenn der letzte Kampf auf die Stadt erledigt ist, sollten die stärksten Helden als erstes zur Stadt in die Garnisson gesendet werden!
– Nur mit den stärksten Helden kann die Stadt gehalten und verteidigt werden und es kann am Ende der Bonus zur Allianz gebracht werden.
– Wenn es dann noch freie Plätze in der Garnisson gibt, sende Deinen stärksten Helden.
Do you feel unfairness? So dont cry like a baby, write to the leader R1/R2 and tell us what does we do wrong, we are only humans and not perfect. So we check your information and try to do it better.
Fühlst Du Dich unfair behandelt? Dann verhalte Dich nicht wie ein kleines Kind, sondern schreibe sachlich Dein Anliegen an einen R1/R2 was wir falsch machen, denn auch wir sind nur Menschen und machen Fehler. Wir werden Dein Anliegen prüfen und versuchen es besser zu machen.

City Fight Positions. You get not millions of ressources on this different position 🙂
The Positions get 5% more Hero-defense and damage, or 5% more create buildings, or 5% training up, or 5% faster research…… thats the fact.


Stadtkampf Positionen. Es werden keine Unmengen an Belohnungen ausgeschüttet, wenn man ein Amt zugewiesen bekommt. Es braucht keiner darauf neidisch zu sein.
Die Ämter bringen 5% mehr Heldverteidigung und Angriff, 5% Bautempo, 5% Ausbildentempo oder 5% Forschungstempo……. das sind die Fakten.
Folgende Amtsverteilungen wurden bisher vorgenommen: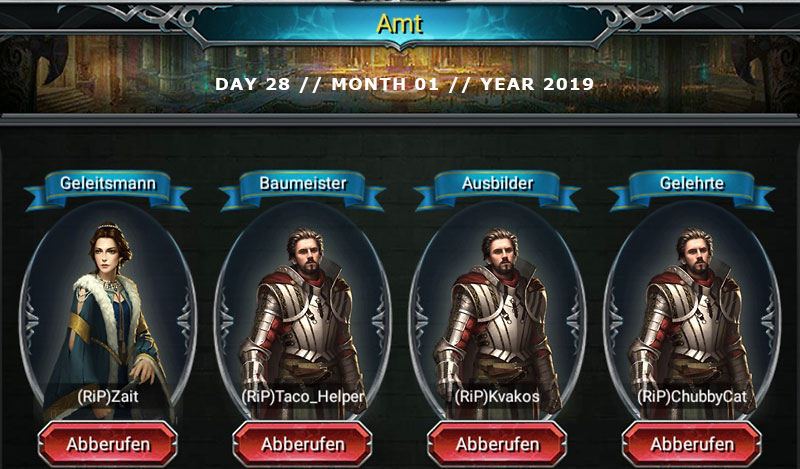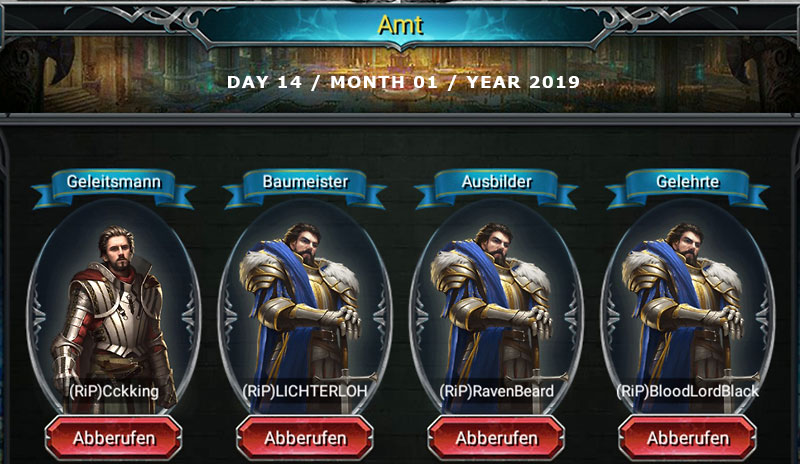 [/vc_column_boxed_text][/vc_column][/vc_row][vc_row][vc_column][/vc_column][/vc_row]